Welcome
InkTec is one of the leading manufacutrers of inkjet ink and media for indoor & outdoor advertisement market.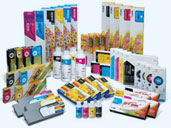 With our accumulated technology over decades, we produce premium quality inks and media for large format printers and are supplying to over 100 countries around the world.

With reliability as its second name, InkTec is very proud that it has been able to keep decades' long relationship with most of our partners.

News & Events
2011-09-23
Special Offer - Buy One Get One Free
InkTec Europe is going to give special offer to new customers. If a new customer buys one set of ink cartridges, another one full set will be given free of charge.
2011-09-12
InkTec's new Premium Sublimation Ink
InkTec is pleased to announce that it will release new Premium Grade Dye Sublimation Ink. With 'Sublinova Pro' as its brand name, it has strong advantages with vivid colour, fast drying time, no odour and no fume during fixation.
2011-08-23
InkTec Jetrix 24hr Support
InkTec Europe is proud to announce that it has set up a technical service network for UK customers. With our team of fully qualified UK based engineers, InkTec Europe can support the Jetrix 24-7 anywhere in the UK.
2011-06-15
Sublimation ink License
Ansan, South Korea May 1, 2011 InkTec, based in South Korea and Sawgrass Technologies, Inc., today announced that they have entered into a license agreement under which...
All news and Events ›